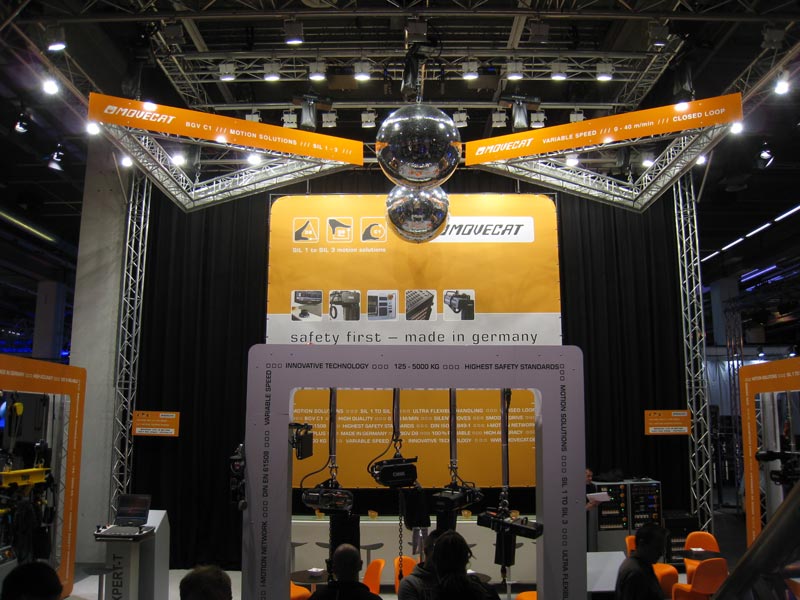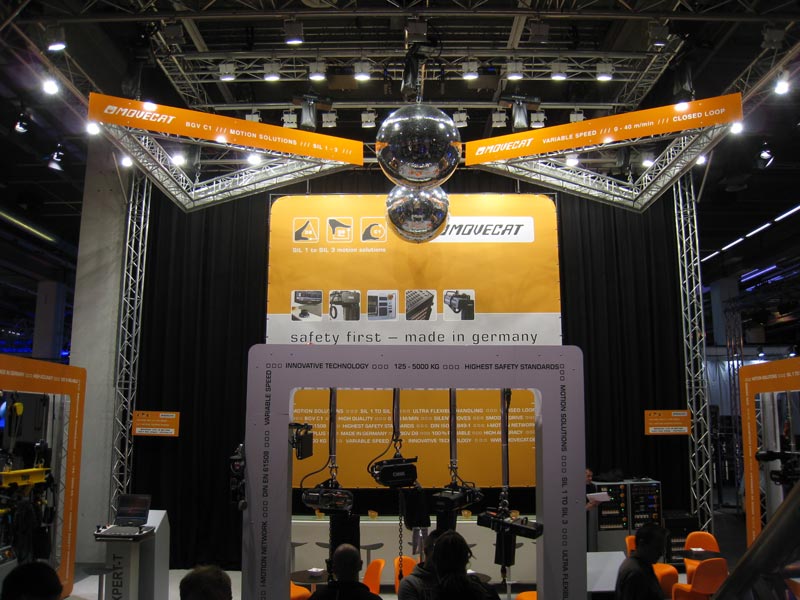 Think Abele can draw a positive balance from its participation at this year's Prolight+Sound trade fair in Frankfurt. Thomas Abele, who together with his brother, Andrew Abele, founded the company that counts among its top-selling products the kinetic solutions from Movecat, provided the following summary: "The year has got off to a tremendous start for Think Abele, bringing us among other things the biggest single order for Movecat equipment since the company was founded. The rigging company Stage Kinetik is using our kinetic systems for the Eurovision Song Contest in Düsseldorf. Also at the Prolight + Sound 2011 we sensed a strong demand for our equipment and were able set in motion some very profitable transactions. The foundation for these was primarily the sophisticated functionality and BGV C1 and SIL3 safety features of the kinetic equipment from Movecat. The fact in particular that Movecat is able already to offer a comprehensive SIL3 system that – unlike many products on the market — has already proved itself in practice is giving us a considerable competitive advantage at this point in time.
The latest from Movecat at Prolight + Sound 2011:
I-Motion Basic S Show Controller (BGV D8 to C1 as well as SIL 1 to SIL 3)
new in the "S" version with ID card function, VGA output, connectivity for an external, dynamic joystick remote unit, and much more.
LC4B and LC8B Load Measurement Controllers
with four and eight channels respectively, four-digit seven-segment LED displays and integration into the tried-and-tested Movecat Link System.
VMK-S 500/250 BGV C1 Chain Hoist (compliant with DIN 56950 and SIL 3)
with a new integrated status board and comprehensive function display as well as numerous test functions such as load testing, brake testing and much more
Expert-T II Kinetic Controller in a new version
New and optimized hardware for faster 3D representation of all functions. All setups can be controlled and monitored at fixed or variable speeds.
Touring Rack II with bypass function
Channel selection, automatic phase and rotary field recognition and switching, Up and Down master runs with only one switch, and clear illumination of all operating states.
The presentation ceremony for Germany's PRG Live Entertainment Awards, which was held this year for the first time in Frankfurt, was also supported with Movecat equipment. The awards presentation in the Festhalle was combined with the official opening ceremony for the two leading international trade fairs, the Musikmesse and the Prolight + Sound, running simultaneously in the exhibition halls alongside and was attended, along with numerous industry insiders, by top German and international acts as well as celebrities from the worlds of culture, entertainment, sports and politics. For the event, Think Abele provided state-of-the-art lifting gear in the shape of a certified Movecat BGV C1 / SIL3 system, which was used for the positioning of the stage equipment. The system for the PRG LEA ceremony comprised eighteen VMK-S 500-24 chain hoists, V-Motion variable motion power packs, an NDB-6 network distributor and an Expert-T control console. The complete system could also be seen in live action in the Festhalle throughout the ensuing trade fairs in the course of numerous demo shows on the PRG LEA stage.
Captions: Movecat at the Prolight + Sound 2011, Andrew and Thomas Abele 2011 (Photos: Think Abele)
Think Abele GmbH & Co. KG
Rudolf-Diesel-Strasse 23
71154 Nufringen, Germany
Phone: +49 (0) 70 32 / 98 51-0
Internet www.thinkabele.de
Contact: Andrew Abele
{phocagallery view=category|categoryid=6|imageid=684}
{phocagallery view=category|categoryid=6|imageid=683}
{phocagallery view=category|categoryid=6|imageid=682}