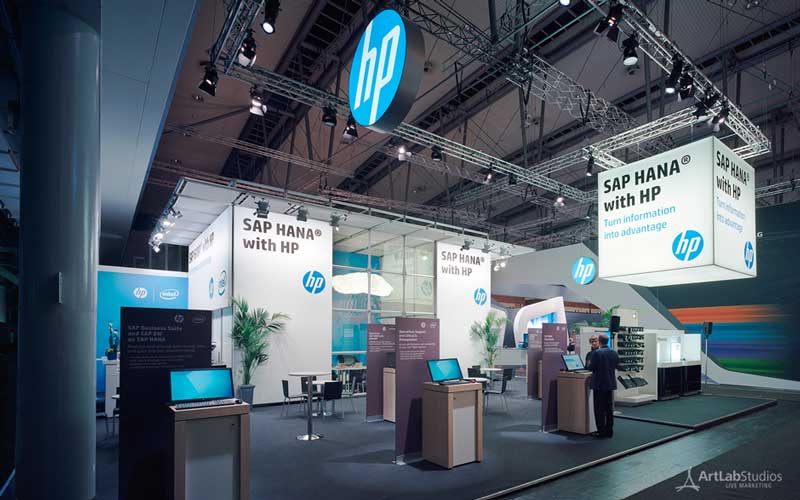 On the tracks of big data

For the first time in over ten years, Hewlett Packard (HP) was represented at its own booth at the CeBIT. The appearance of the IT supplier was dedicated entirely to a single theme: the industry solutions for SAP HANA developed jointly with SAP. In Hall 4, HP demonstrated the remarkable capabilities of the in-memory computing platform including the lighting-fast analysis of vast amounts of data that can dramatically accelerate analytics, business processes, sentiment data processing and predictive capabilities.
Using the slogan "Turn information into advantage", ArtLab Studios came up with a fresh and modern booth concept for HP that illustrated the extensive possibilities of SAP HANA, from the infrastructure to the business process. An hour-long show with a presenter rounded off the creative design. To make visitors to the fair better acquainted with the new perspectives of SAP HANA, the database system was visualized with the aid of a Google Glass. This gave wearers the impression that they were negotiating the passageways of a business, pausing in front of particular products to read the relevant information.
ArtLab Studios not only handled the construction and dismantling of the booth but also provided comprehensive support throughout the CeBIT. For key account customers, a separate room was available with frosted glass foil and light-show projections demonstrating a SAP HANA system in action. The meeting room was adorned by a Mamacloud designer lamp by Frank Gehry. Above the show area and directly opposite the SAP booth, there was a 3 x 3 m screening cube. At the cafe bar, manned by a barista, visitors to the fair could sample the original Italian coffee.

Caption: Trade fair concept for Hewlett Packard (Photo: ArtLab Studios, may be reproduced freely)

ArtLab Studios Veranstaltungs-, Design- und Technik GmbH
ArtLab Studios is an owner-managed, internationally active, full service agency for live marketing with offices in Berlin and Miami. Its core expertise is the combination of brand architecture and experience communication for clients in a variety of industries including the media and the automotive, electronics, finance and IT sectors – developed by interdisciplinary teams of designers, architects, event professionals, programmers and communication specialists. Its other fortes include digital services as well as attention-grabbing multimedia productions.

ArtLab Studios GmbH
Wißlerstraße 19
D-12587 Berlin
Phone +49 30 536 081-40
Email: info@artlabstudios.de
www.artlabstudios.de
{phocagallery view=category|categoryid=139|imageid=1858}