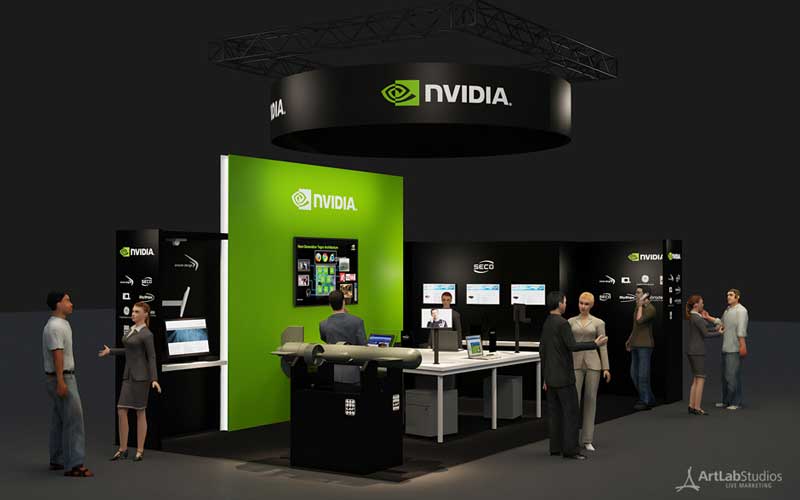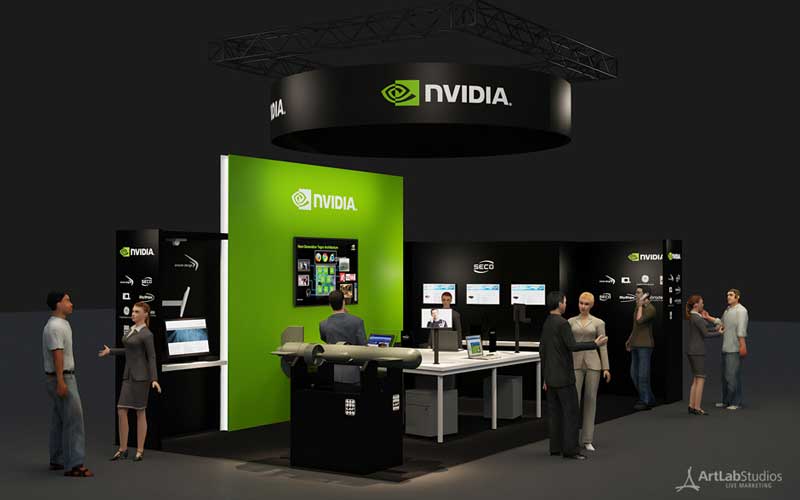 The reliability of electronic systems, distributed intelligence, the internet of things and solutions for future themes such as e-mobility and energy efficiency stood high on the agenda of Embedded World 2014. The world's largest trade fair for embedded technologies in the fields of hardware, software, tools and services drew more than 850 exhibitors this year as well as 26,700 specialist visitors to Nuremberg.
To present the specialists in graphic solutions, components, processors and complete solutions in the embedded market, ArtLab Studios designed an 8 x 4-metre trade fair booth with the tried and tested NVIDIO Look & Feel. The central pillars of the brand appearance were the presentation of the company's strengths in the fields of visual computing, product presentations such as the new Tegra Note 7 tablet, next-generation designs and NVIDIA's partnerships with Avionic Design, ICD, Seco, Skyships, GE, LAR and Toradex.
A new high-resolution monitor (Hyper HD) featuring NVIDIA 3D technology, which is not yet available on the market, impressed visitors with its intuitive architecture and superlative performance. The remote-controlled Seastick Torpedo, an autonomous underwater vehicle for filming at sea or in the harbour—equipped with camera, lamps and a propeller—could be operated live on the stand. The new product from NVIDIA was recently distinguished with the 20,000-euro Innovation Prize 2014.

The platform used for the presentation of the Seastick went down so well with visitors that it is being shipped together with the Torpedo to Italy after the fair. The equipment, such as screens and computers, was provided by NVIDIA itself.
Caption: The NVIDIA booth (photo: ArtLab Studios, may be reproduced freely)
ArtLab Studios Veranstaltungs-, Design- und Technik GmbH
ArtLab Studios is an owner-managed, internationally active, full service agency for live marketing with offices in Berlin and Miami. Its core expertise is the combination of brand architecture and experience communication for clients in a variety of industries including the media and the automotive, electronics, finance and IT sectors – developed by interdisciplinary teams of designers, architects, event professionals, programmers and communication specialists. Its other fortes include digital services as well as attention-grabbing multimedia productions.
ArtLab Studios GmbH
Wißlerstraße 19
D-12587 Berlin
Phone + 49 30 536 081-40
Email info@artlabstudios.de
www.artlabstudios.de
{phocagallery view=category|categoryid=139|imageid=1861}