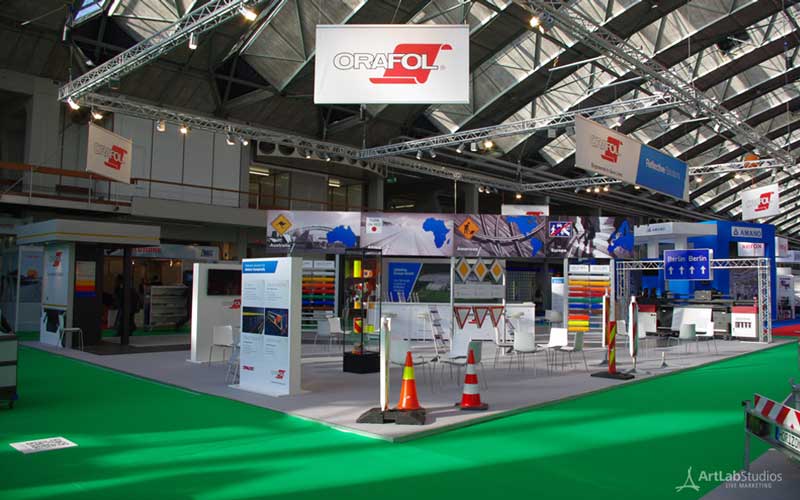 Orafol Europe used the Intertraffic 2014 trade fair as a forum to present to industry insiders its credentials as a strong partner in the fields of vehicle wrapping materials, marking, digital printing and safety clothing. The world's leading trade fair for infrastructure, traffic management, safety and parking systems took place in Amsterdam.
The concept developed by ArtLab Studios focussed on presenting Orafol's worldwide locations and the markets in which it is present internationally with special emphasis given to reflective film for traffic signs, vehicles and personal protection. The live marketing specialist developed a modular trade fair system scalable to the precise needs of Orafol: rolling displays combined with light boxes, the number of which could be adjusted to the size of the trade fair booths in question. ArtLab Studios developed graphics illustrating the output of Orafol's various business divisions, whilst in the rolling displays beneath, the reflective films in question were presented directly.
Running through the booth was a street graphic featuring manhole covers, coins and other objects—designed by ArtLab Studios and printed by Orafol. A discussion lounge and numerous displays with traffic signs rounded off the design.

A particular highlight was provided by a two-ton Anapurna M2050. The high-speed UV curable inkjet system from Agfa was used for live demonstrations. Visitors to the trade fair were able to have reflective films from Orafol printed for them. Above the printer was a girder bearing a traffic sign marked "Direction Berlin // Autobahn".
ArtLab Studios handled the construction and dismantling of the trade fair booth, whilst the ongoing operation was the responsibility of Orafol. As equipment, ArtLab Studios manufactured new presentation displays for multiple use as modular systems: dual-sided light boxes, rolling displays with films—some reflective—and displays for traffic signs.
Caption: The Orafol stand at the Intertraffic trade fair in Amsterdam (photo: ArtLab Studios, may be reproduced freely)
ArtLab Studios Veranstaltungs-, Design- und Technik GmbH
ArtLab Studios is an owner-managed, internationally active, full service agency for live marketing with offices in Berlin and Miami. Its core expertise is the combination of brand architecture and experience communication for clients in a variety of industries including the media and the automotive, electronics, finance and IT sectors – developed by interdisciplinary teams of designers, architects, event professionals, programmers and communication specialists. Its other fortes include digital services as well as attention-grabbing multimedia productions.
ArtLab Studios GmbH
Wißlerstraße 19
D-12587 Berlin
Phone + 49 30 536 081-40
Email info@artlabstudios.de
www.artlabstudios.de
{phocagallery view=category|categoryid=139|imageid=1862}