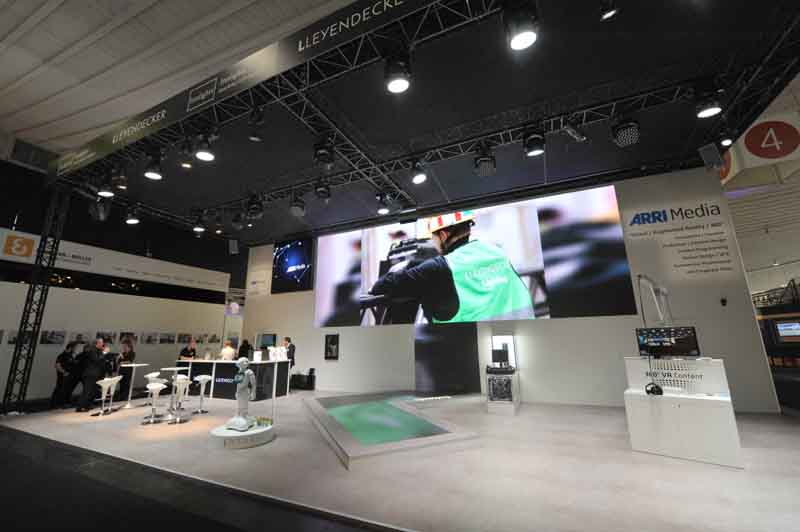 The production company LLEYENDECKER showed at this year's Best of Events trade fair in Dortmund the impressive breadth of its portfolio as a provider of technical support for events and presentations. The focus was on the interdisciplinary coordination of media and kinetic equipment – a field of expertise assuming ever greater importance for LLEYENDECKER. The events equipment specialist from Wuppertal relies for this on kinetic systems from Movecat.
At the Best of Events show, LLEYENDECKER was particularly concerned to demonstrate live the remarkable possibilities for interaction such equipment offers. At its disposal was a trade fair stand measuring 16 x 8 metres with a height of 6.5 metres. Extending for twelve metres in front of the back wall of the booth, which was itself covered with enormous LED screens, a Silent Move track was laid to allow the movement of a four-square-metre LED screen. The image content playing back on the two surfaces, the fixed LED screens at the back and the smaller LED screen passing in front of them, was kinetically synchronized. To implement the movement, LLEYENDECKER used six VMW-S 125 high-speed winches, an Expert-T II controller, two NDB-6 network distributor boxes and a DMX trigger box – all from Movecat.

The dynamically 'flown' 2 x 2-metre LED wall was moved horizontally and vertically across the face of the LED rear wall atop a specially constructed trolley and rotated through 30°. The Movecat controller not only provided real-time information to the media server on the current position of the trolley but served also to trigger additional effects via DMX 512. This proved the extent to which it is now possible to synchronize with split-second precision and pinpoint accuracy the movements and image content of mobile playback mediums with content playing back on static screens as well with accompanying lighting and special effects. In the process, the movement, image content and effects coalesce to form an organic whole. The triggering can be implemented bidirectionally, allowing for interaction with the artists and performers, as the kinetic movement and content can either follow the action onstage or vice versa. By this means, new and dynamically creative event solutions can be realised.
With its trade fair presentation, LLEYENDECKER demonstrated in particular its expertise when it comes to harnessing and integrating disparate elements to implement an overall event concept in a manner that is at once technically convincing and visually appealing. Numerous custom components were designed and manufactured for the purpose, such as wire and tow-cable guides, runners, pulley-systems, a concealed equipment shaft and much else besides.
Caption: The LLEYENDECKER stand at the Best of Events trade fair 2017 (Photos: LLEYENDECKER, may be reproduced freely provided the source is named)
Movecat GmbH
Movecat is currently the only manufacturer of kinetic equipment for the stage anywhere in the world capable of offering practice-tested, certified and genuinely available integrated systems compliant with BGV C1 and SIL3 – these consisting of chain hoists, trolleys, winches, load-measurement systems and networks. The company was founded in 1986 by Andrew and Thomas Abele. Movecat products are both developed and manufactured in Germany. Kinetic solutions from Movecat are widely used in big-name national and international shows, tours and TV productions. In 2015, the company was awarded the VR Innovation Prize for Medium-Sized Companies by the cooperative financial group Volksbanken Raiffeisenbanken.
Movecat GmbH
Rudolf-Diesel-Straße 23
71154 Nufringen
Phone: +49 (0) 70 32 / 98 51-0
Internet www.movecat.de
Contact partner: Andrew Abele
{phocagallery view=category|categoryid=6|imageid=2827}
{phocagallery view=category|categoryid=6|imageid=2828}